Why Your Auto Mechanic Needs to See Your Car Regularly
The two main reasons why people bring their car to an auto mechanic are: (1) for regular scheduled maintenance and (2) because they noticed a problem. The standard oil change interval has gradually increased from 5,000 km to 15,000 km. Oil changes every few months are pretty much history. For today's vehicles, it's not uncommon to have an oil change just once a year— perhaps more often if you have a short commute.
Longer service intervals don't mean that engines, brakes, and other car parts don't wear out. It's still worth visiting your auto mechanic at least every six months, especially if your annual mileage doesn't warrant regular maintenance.
Five reasons to visit your auto mechanic
Many people won't take their car to the mechanic unless they detect a problem or their vehicle is due for maintenance. The truth is that you may not notice a problem until it's too late. If you're not yet convinced that you should visit your mechanic routinely, keep reading.
When you go in for an oil change, a tire rotation, or other maintenance, your trusted mechanic has a chance to inspect your entire vehicle. Mechanics look at cars every day, so they tend to notice when things such as brake pedal pressure or steering response are off spec. Additionally, problems such as extreme tire wear (as seen in this photo) are easier to detect when your vehicle is on the lift.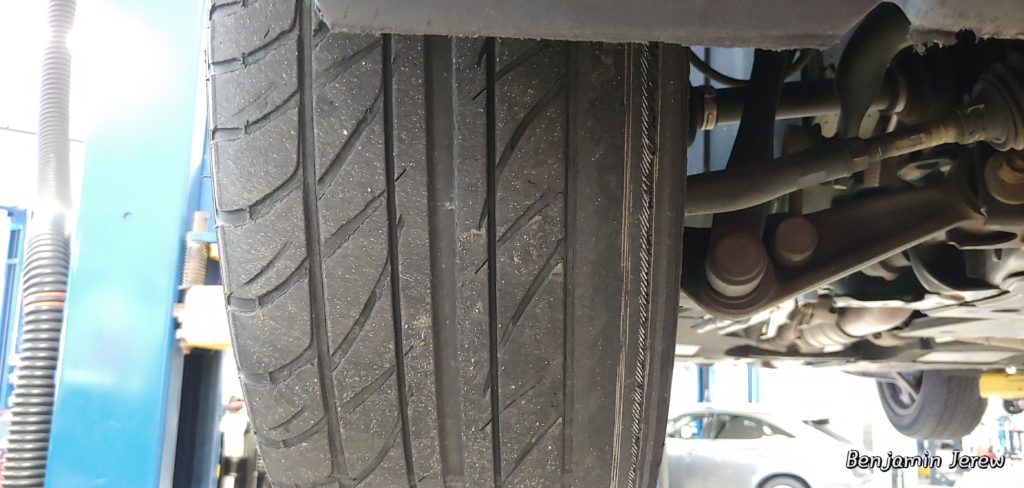 You should stop by your trusted mechanic each spring to make sure your car is good to go for summer. Remember that summer can be demanding on your car's cooling and AC systems. Driving on snow tires in the warmer months can wear them out prematurely, so you'll also want to put on all-season or summer tires. Lastly, spring is a good time to repair any damage to the brake system that may have occurred over the winter.
Likewise, fall is the perfect time toget your car ready for winter. Put on your snow tires before the first snowfall to avoid being caught unawares. And since the cold can be hard on your vehicle battery and charging systems, the fall is also a good time to have both tested for fitness.
Beforeleaving on any road trips that are over 800 kilometres, you should ask your mechanic to make sure your car can handle the drive. Keep in mind that it's harder to find a trustworthy mechanic when you're far from home. Take care of any necessary repairs or maintenance to avoid complications and delays on your trip.
Small problems should be investigated before they escalate. For instance, squeaky brakes may just be harmonics or moisture, but they could also be an indication of brake pad wear. Besides being a safety concern, allowing the brake pads to wear out completely could damage the rotors or calipers. A squeaky belt might be moisture or wear, the latter of which could leave you stranded on the side of the road. Your trusted auto mechanic can remedy these problems before they become inconvenient.
Check out the complete list of seasonal car maintenance services available at our 600 NAPA AUTOPRO locations. To find a trustworthy auto mechanic, stop by your local NAPA AUTOPRO service centre.
Benjamin Jerew