Shedding New Light on Headlamp Changes
For driving in the dark, such as by evening or night, to be entirely safe and pleasant, you need bright headlamps in good condition. However, these often require specific maintenance or even a change to increase their effectiveness and, by the same token, all road users' safety.
Do-It-Yourselfing
Before changing a headlamp, be aware that you can rejuvenate it using the polishing technique. The material that covers headlamps is made of polycarbonate, a compound that deteriorates rather quickly. Calcium, road dirt and grime damage and tarnish front headlamps' plastic covering films. You can polish the plastic yourself using over-the-counter materials available in several NAPA stores, to give your headlamps a new lease on life. However, you must take care to use the product correctly and prevent further damaging the headlamps. Various products are sold, such as polishing pastes or liquids, but sandpaper sheets remain the best-performing ones.
If the fuses or bulb need(s) a change, you had better read the entire directions for use and have all the necessary tools handy. As the headlamps are part of the electrical system, you must first and foremost think of your safety!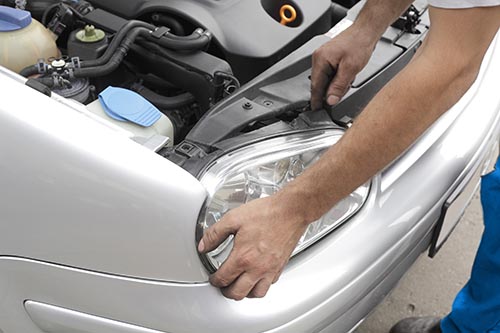 Professional Required!
For people less inclined to do-it-yourselfing, or when the entire headlamp must be replaced, it is better to turn to professionals, because the task could prove to be more complex than expected. In some cases, repair shop personnel even have to remove the bumper so they can properly change all headlamp components.
Light-emitting diode (LED), high-intensity discharge (HID) or xenon headlamps are not meant for all types of cars. In some cases, they are too powerful or aimed off target. Transport Canada has issued standards for using these headlamp types according to their age or model.
As above-mentioned, the headlamps are connected to the electrical system, and sometimes, after modifying or completely changing one or both of them, you also have to re-program the electrical system. In addition, certain technologies, more and more widespread, offer adaptive headlamps that adjust their light intensity to ambient light or on-coming traffic. So before getting involved in a headlamp change, which can become adventurous and even hazardous, first make sure to carefully read all instructions, or head on to a NAPA AUTOPRO centre and entrust the work to a qualified technician!