1-2-3—it's summer! In our family, we always yell this out when the bell rings on the last day of school. How do you mark the start of summer vacation?
Every summer, thousands of Canadians hit the highway and take a road trip to visit friends or family around the country. For a stress-free trip, plan your route ahead of time and make sure your car is road-ready. Here are some tips for the perfect road trip!
Make a trip to the garage
If your check engine light is on, you should probably get it checked out before taking a road trip. A quick trip to the garage will put your mind at ease. It could be a minor electrical problem, or you may be due for an oil change or new filter. There's nothing worse than having your car break down when you're hours away from home.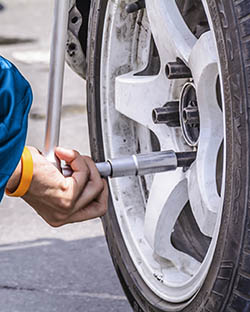 Check your tire pressure and tread wear
You don't want to get a flat tire when you have suitcases, bikes, and food stuffed into the trunk and piled on the roof of the car! A quick look over your tires will tell you if anything is out of the ordinary. And why not check the tire pressure while you're at it. The suspension and tires could suffer from the heavy load if your tires aren't at the recommended tire pressure.
Plan ahead
You can never be too careful! That's what we say, but it's even more true when you're on the road. For a stress-free trip, map out your route beforehand and plan to take regular breaks, especially if you're travelling with kids. A quaint restaurant along the highway, a rest area where you can play Frisbee and take in the scenery, or any reason you can come up with to stretch your legs and make the trip that much smoother. Be sure to travel with a road map (wireless signals aren't always the best on highways) so you can find an alternate route if the roads are blocked due to an accident or bad weather.
Pack a roadside emergency kit
Keep these items in your car for a worry-free trip:
• First aid kit
• Tire repair kit
• Flashlight
• Bungee cords
• Snacks
Before you hit the road, remember the most important rule is to have fun and be careful. Have a great summer vacation!